Custom Wood Shelves & Countertops – Contact Areté  Woodworking
If you're looking for a beautiful set wood shelves or a wooden countertop, contact our partner Chris from Areté Woodoworking! They're located in All of their work is handcrafted in-house to fit your home perfectly. Tell Chris the folks at Right On Bracket sent you!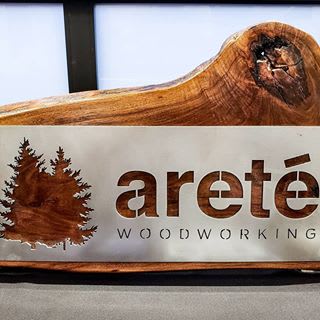 Custom Wood Shelves
Areté Woodworking can make you a variety of different wooden shelves. Everything from live edge, epoxy infused, and traditional shelves. Paired with our shelf brackets, you can design a floating shelf, shelf with hidden brackets, or traditional L bracket shelves. No matter what combination you need, contact us and Areté Woodworking for your next shelving project!
Custom Wood Countertops
If you're looking for a unique and handcrafted wooden countertop, look no further! Areté Woodworking can design a countertop that will fit your home perfectly. Choose from a variety of different thicknesses, designs, wood types, and finishes.
Concrete Furniture, Tables, & Shelves
Concrete and an amazing material to use in furniture or combine with wood. The result is a modern and relaxed feel. These pieces are also extremely heavy, so if you need brackets to support a shelf or countertop made of concrete, make sure you use a 3/8″ or 1/2″ bracket to support it reliably.
Contact Areté Woodworking
If you're looking for a custom countertop or set of shelves, go to www.aretewoodworking.com or fill out the form below!