Popular Woods To Use for Your Fireplace Mantel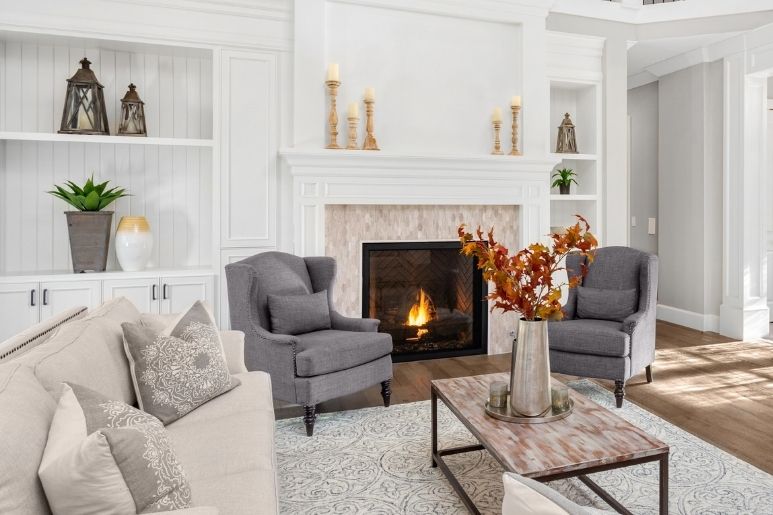 When it comes to choosing a material type for your fireplace mantel, you'll find almost too many options. Whether you're installing a fireplace from scratch or just adding a mantelpiece to an existing fireplace, this breakdown of the best wood options can help make your choice easier. Explore the most popular woods to use for your fireplace mantel to get a first look at some of your options.
Walnut
If you're looking for a durable wood that will provide years of beauty and functionality, walnut wood is an excellent choice for a fireplace mantel. Walnut wood has a characteristic dark color and distinctive grain pattern and texture. Walnut wood is an ideal choice if you want your fireplace mantel to be a focal point of the room. This variety of wood leans a bit on the pricier side, but the quality is almost unmatched when it comes to mantel wood.
Hickory
If you want your fireplace mantel to be an eye-catching piece, hickory wood is also a great option. Hickory has a unique type of grain that streaks throughout the wood, which makes it an attention-grabber. If you're going for a warmer tone in your interior design choices, hickory makes a fantastic addition due to its brown and pink coloration. Like walnut, it's also very dense and durable, so it'll last you years to come.
Cedar
Cedar wood is popular for achieving that rustic cabin feeling in interior design. This is due to its woodsy scent and rustic color and grain. You'll often see natural knots in the cedar wood grain, which add to its natural and rustic appearance. Cedar is a softer wood with slightly less durability, but it can still be a beautiful choice for a rustic-themed fireplace.
Oak
Oak wood is one of the most admired types for use throughout the home. Red oak wood is extremely popular for hardwood floors, door and window trim, railings, and more. If you already have oak accents throughout your home, adding oak to your fireplace mantel will be a great opportunity to bring the whole house together.
Cherry
Cherry wood has a rich red coloration. The grain is relatively simple but elegant, with straight lines running throughout. Furthermore, cherry wood is incredibly smooth as well as durable. Many homeowners like adding dark stains to it to deepen its already rich color. If you're looking for an elegant fireplace addition, cherry wood is one of the best choices.
Hopefully, this brief look at some of the most popular woods to use for your fireplace mantel will help paint a better picture of your ideal building material. No matter which type of fireplace wood you choose for your mantel, you must ensure that you have the correctfireplace mantel brackets to support the weight. With added durability comes more weight, so make sure you have the right size brackets to hold up the mantel wood you choose.