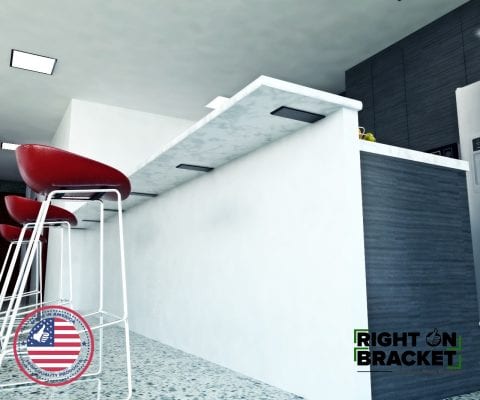 Right On Bracket right angle support brackets are American-made and quality inspected. If you're installing a heavy countertop, our brackets will give you the support and reliability you're looking for. You're sure to be more than satisfied with the overall strength and quality of our products.
Gives the best support for a granite or heavy countertop. These brackets are designed to deliver a high weight capacity. 
Available in thicknesses: 1/4″ & 3/8″
Available in lengths: 8″, 10″, 12″.
All flats have 3 countersunk mounting holes to give a smooth surface. 
The leading edge is beveled to eliminate the blunt edge. Keeps clothes and knees safe from being cut.
All parts are ground & buffed to give smooth edges & eliminate any burrs.
Powder coated black.
Packaged with film & foam between items to eliminate damage during shipping.
Products are manufactured and inspected in America.
If this isn't the perfect size for your project, visit our "Custom Order" page.