Tips for Hiding Clutter on Floating Shelves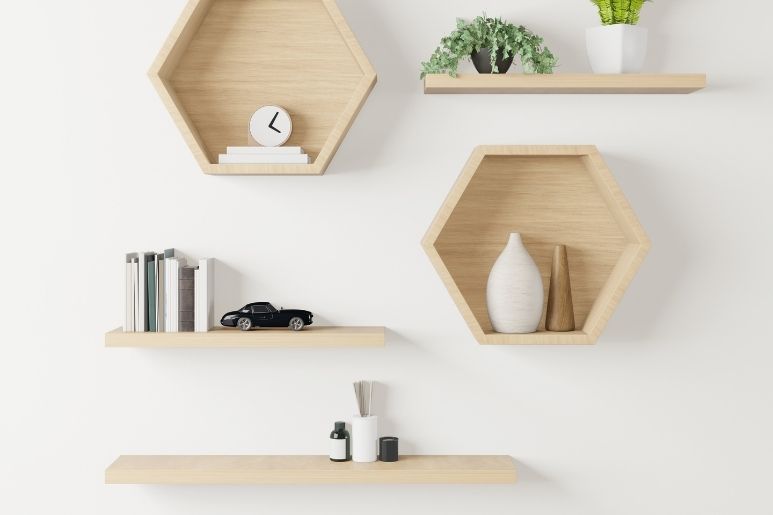 It's easy to accumulate clutter as a homeowner. We tend to pile up items we don't use often enough in drawers, shelves, and on counters. So, how can we combat this clutter from becoming an eyesore in the home? The first step is to decide what you need and what you don't, then organize what's left. From there, you can find creative ways to store and hide your clutter, keeping it out of sight. Keep reading to find unique tips for hiding clutter on floating shelves for any room in the house.
Get Rid of What You Can
The first step to organizing your clutter is to get rid of as much of it as you can. Minimizing your clutter will make it easier to store away and hide what's left. Take this chance to sort through your belongings in the space you want to organize. Sort into piles of similar items, items you want to keep, and items you can get rid of. You can toss any damaged or outdated items, but hold onto gently used ones that you don't need anymore. Consider donating your gently used items to a good home. Or, if you'd rather sell what's left, consider having a garage sale or selling items online. This way you can do some good and get use out of your clutter.
Installing Your Floating Shelves
After you've sorted through the clutter, floating shelves are a great way to organize your remaining items. Get started by choosing the locations you want to hang your shelves. If you plan on shelving larger, heavier items, you'll want to stock up on some heavy-duty hidden shelf brackets—these make installing shelves a breeze. Plus, your shelves will look even more stylish as floating shelves with no visible support yet will still be just as sturdy. You can hang floating shelves as high or low as you want.
Organize Your Things
The next step to keeping your clutter hidden is deciding how you want to organize it. Which items can be tucked away for rare uses and what do you use every day? For example, when hanging floating shelves in the bathroom, many people keep toiletries and accessories like cotton balls, makeup wipes, toilet paper, and other necessities in close reach. On the other hand, you probably don't need extra towels, soap refills, etc. in reach at all times. This would be a great opportunity for some well-placed floating shelves and organizers.
The applications for floating shelves are endless. You could hang them in the office to keep your equipment and utensils organized; you could even place them in the kitchen to declutter your countertops. Get creative with your shelving and organizing.
Keep Clutter Hidden
So, what can you use to keep these items hidden? Whether you want to keep items within reach or stored away, there are many options that you can use to keep clutter organized yet hidden. You can employ everything from containers to decorations that you already own to hide clutter. Here are a few creative and practical ways to keep clutter out of sight:
Use Decorative Containers
There are a variety of decorative containers you can choose from to complement your shelves. Anything with textured or opaque sides will keep your clutter out of sight while still helping you organize. Some great examples of decorative containers include baskets, magazine boxes, jars, separators, and more. If you don't already have some on hand, you can pick up decorative containers at your local craft supply store. If you're shopping on a budget, try your local thrift store too—you can find all kinds of baskets and organizers that will add a vintage feel to your space.
Create Your Own
If you're looking for a fun craft project or want to save some money on your decorations, you can DIY your own decorative containers. You can create your own containers out of mason jars, cans, baskets, shoe boxes, and more. All you need is a fresh coat of paint to breathe new life into these everyday objects. Making your own storage boxes gives you more customization over color, size, and more. Plus, painting clear jars and other items will help keep your items stored inside from view. Let them dry, place your items inside, and you have new storage pieces for your floating shelves! Jars and small boxes also make great homes for small items like cotton balls or pet toys in the first place, so they make a perfect addition to bathrooms, living rooms, or any room of your home.
Décor Doubles as Storage Space
Try employing decorative pieces in creative ways. For example, if you have canvases or photo frames displayed on your shelves, place smaller clutter items behind the frames. You'll still have these items available when you need them, but they'll be obscured from view until then.
If you store books on your floating shelves, consider purchasing a few decorative, hollowed out books to store clutter items and accessories. The hollow books will blend in with the real ones and conceal your clutter. Get creative with traditional decorative items, too, such as vases or anything hollow. Small items like charging cables or even pet toys are great for stashing in these spots. Just make sure the hollow part isn't too narrow or you might get your hand stuck or knock something over when going to retrieve your items. You can accomplish the same design with decorative bowls, chests, and more.
Hopefully these tips for hiding clutter on floating shelves help inspire you with ideas for your own home. Don't be afraid to get creative with your storage options. With shelf brackets from Right On Bracket, you don't have to worry about flimsy shelves that fall apart as soon as you place items on them. Shelves hung with our heavy-duty shelf brackets will hold up under a variety of decorations and weights. Store your items with confidence using our specialty brackets.