Tips for Styling Floating Shelves in Your Living Room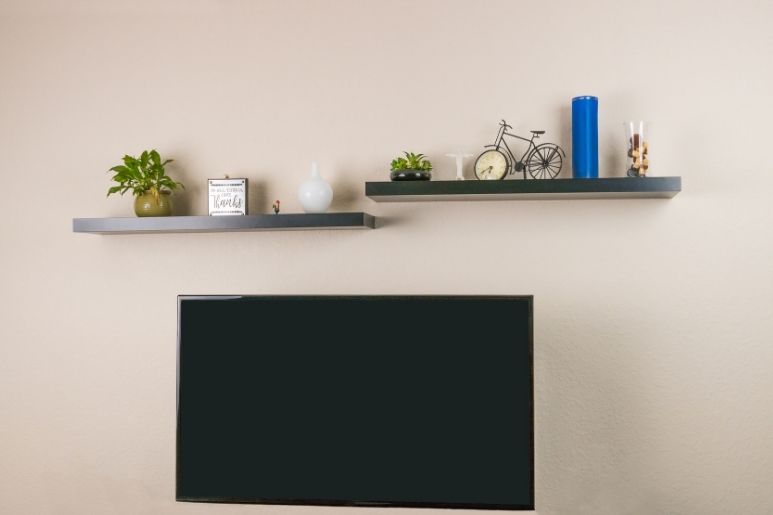 Floating shelves help tie a room together in many ways. They have many colors, sizes, and designs, and their brackets are invisible! With everyone staying home more, this is a great opportunity to take strides toward interior design and sprucing up your space. As you begin to make little adjustments to your home, consider these tips for styling floating shelves in your living room.
Utilize Corners
When we think of shelving, we often picture the shape of them being a rectangle. But they don't have to be! Embrace the triangles and fill those empty corners. It's easy to overlook the angles of a room, not knowing how to utilize the space. Floating shelves come in many shapes. Placing them in the corners of a room can help keep the space open, while the shelves look pretty and are out of the way of visitors.
Stagger the Shelves
The great thing about floating shelves is that you can stagger their placement. Whether it's to avoid other furniture, work with doorways and tight spaces, or purely for aesthetics, you can set the shelves into a pattern. With each piece being individual, you don't even have to use the same sized shelves for each layer. Floating shelves give the owner much more creative license to personalize the layout.
Identical Shelves
Though you have the ability to fluctuate between size and placement of the shelves, you are more than welcome to mount identical ones. This could give you the look of a bookcase without the cumbersome furniture. Symmetry can be a powerful visual attraction if you choose to lay your shelving out in that manner. Whether in rows or columns, this choice of set up can store quite a bit of material in an organized way.
Designs and Patterns
One of the key features that makes these pieces so versatile is the hidden floating shelf brackets. They make the overall appearance much cleaner and give you the ability to make different patterns or designs when creating a shelf. For example, you could hang them diagonal running into each other to create an intricate floating bookshelf. They also come in closed shapes such as hexagons to give a more creative look to a classic piece.
There are many tips for styling floating shelves in your living room to generate the look you desire. Play around with the options, as you might be surprised at how creatively you can display your items. The lack of showing brackets and the variety of shapes, sizes, colors, and thicknesses make these furnishing pieces very useful and a wonderful addition to your room.