A Full Guide to Installing a Fireplace Mantel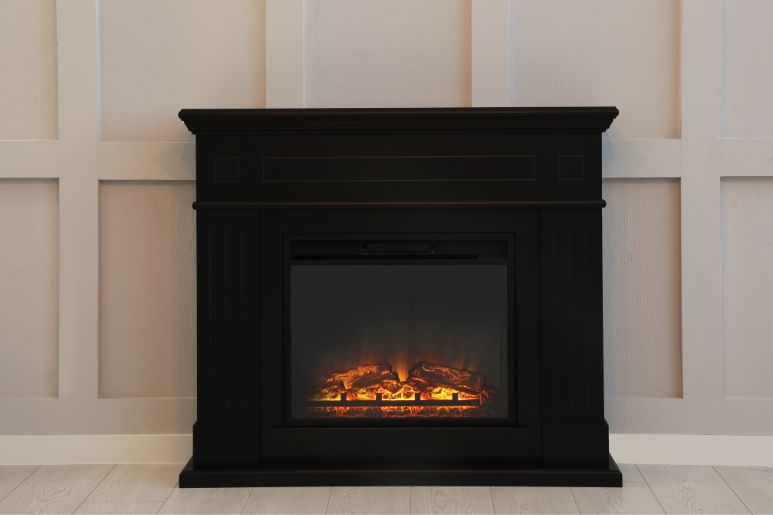 A mantel gives a fireplace added charm and functionality, so many homeowners choose to install mantels above their fireplaces if one wasn't present when they moved in. There are many assorted styles of mantel and types of materials with unique installation techniques. Learn how to approach hanging the perfect mantel with this full guide to installing a fireplace mantel. Here, you'll find everything you need to know before starting your handiwork.
Choose Your Mantel
There are many types of mantel materials to choose from when selecting your installation. Not only should you consider your home's aesthetics and interior design, but also the challenge of hanging a mantel. For example, heavy mantel materials like stone and hardwood require thorough hanging supports to suspend them above your fireplace. Some common fireplace mantel materials to consider include:
Natural stone
Marble
Tile
Wood/Log
Stainless steel
These are just some of the most common mantel options, but the opportunities are endless. As long as you give your mantelpiece adequate support and distance from the hearth, you can use a wide variety of materials and techniques.
Another thing to consider when choosing your mantel is the size. Many homeowners want their mantel to reach a few inches beyond the edges of the fireplace hearth. You can get as creative as you want with the size and style if you have the right brackets to support the extra length.
Acquire Your Brackets and Hanging Materials
When undertaking a mantle project, you'll need to select the correct fireplace mantel brackets based on the hanging type you want to achieve. Right angle brackets have a vastly different appearance than floating brackets, which you can't see at all once the installation is complete. If you prefer the image of a floating mantel over your fireplace, select heavy-duty mantel brackets that will rest inside your mantel material. Many hanging materials are the same no matter which brackets you choose. Make sure you have measuring instruments such as a tape measure and ruler for smaller measurements. Thoroughly measuring and checking your alignment with a level is key to ensuring an even result. Other tools and materials the mantel hanging project will require include:
Pencil or pen
Stud finder
Drill and appropriate drill bits
Wall anchors or bolts (depending on the surface of the wall/fireplace)
Safety equipment
The Installation Process
The installation process may look a bit different depending on your choice of mantel material and hanging method. For example, installing a floating mantel directly into the wall above your fireplace will be easier than anchoring one into the stone surrounding it. However, this wouldn't be a full guide if we didn't explore multiple hanging methods for mantelpieces. Keep reading to find some of the most common mantel hanging methods and their basic steps to follow. Familiarizing yourself with these steps will help prepare you for your installation, no matter which method you choose.
The space between your fireplace opening and the bottom of your mantel should be the same distance. The distance between the mantel and fireplace opening starts at about 12 inches. Add another inch of distance for every inch the mantel material protrudes from the wall. This will prevent your mantelpiece from becoming a fire hazard and keep it safely away from the heat.
Surrounding Wall Installation
If your fireplace, hearth, and surrounding area are on the smaller side, you may wish to install your mantel directly into the wall above. First, locate the studs behind your wall with a stud finder device. This will help you find the best support for your mantelpiece, especially if you choose a heavier material. Next, measure the necessary gap between your fireplace and where your mantel will rest along the wall. Then, drive your first bracket or lag screw into the wall along the stud.
After drilling the second hole (or any additional holes depending on the length of your shelf), make sure the mantel lays flat and even by previewing it with a level. Finally, slide the mantel over the floating or angle brackets, double-check your measurements, and you're done!
Masonry Anchors
If your fireplace surround is built to ceiling height or extends far past your firebox, you might not have access to the original wall studs. In this case, you can anchor the mantelpiece to the stonework surrounding the fireplace. You'll need at least four inches of stone or brick to work with, so make sure the fireplace surround is at least four inches thick to support the weight.
Start by drilling 3/8-inch holes into the stone or brick. You'll need masonry tools and anchors, which you should then slide into the holes. From here, install your mantelpiece with floating brackets. Use construction adhesive or heavy-duty glue in the floating bracket holes along your mantelpiece to provide extra support.
Backer Board
Backer board installations provide extra stability for a mantle, but this method won't work for every fireplace. This is because you'll need to install the backer board for support as you install the fireplace surround. Cut your backer board to the exact measurements of your fireplace surround. The backer board attaches to your wall studs on one side and supports the mantel on the other. From there, fill in the exposed backer board with masonry or another material used for a fireplace surround. This offers an extra layer of support, but you can't use a backer board the same way for a previously installed fireplace.
Use this full guide to installing a fireplace mantel to better prepare yourself for this DIY project. Installing a fireplace mantel is quite an undertaking for a homeowner, but anyone can accomplish it with the right tools and research, starting with this guide. If you still need the proper support brackets for your mantel hanging project, check out our selection here at Right On Bracket. We carry the perfect brackets for fireplace mantel installations, including heavy-duty options ready to support the sturdiest materials. Find floating brackets, shelf brackets, and more for any project you're starting.