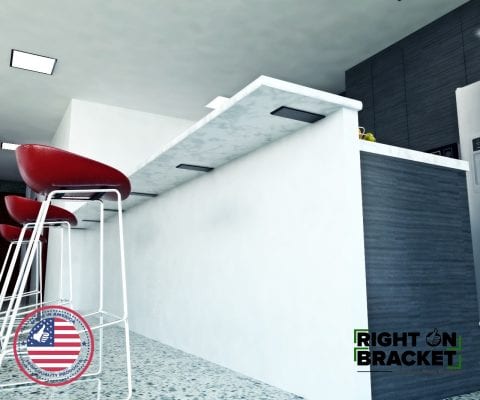 Granite countertops that have an overhang need to be fully supported with a reliable support bracket. When installed correctly, this bracket will stay in place and hold up everything it needs to, making it perfect for every home, condo, or apartment. This top-mounted wall counter-top support bracket is American-made, incredibly durable, and designed to your exact specifications. We can guarantee the top-notch quality and strength of this product.
Call for a quote on your custom countertop support bracket, or order now if your exact measurements are already listed. You'll receive full support from our staff and our top-mounted wall counter support bracket. 
Powder Coated Black Finish.
Gives the best support for granite countertop. These brackets are designed to deliver a high weight capacity.
All Granite Brackets are manufactured and assembled in the U.S.A.
All edges are ground, buffed, and smoothed on the edges to eliminate any burrs
All flats have 6 mounting holes and countersunk to give a smooth surface.
The leading edge is beveled to eliminate the blunt edge. Keeps clothes and knees safe.
Packaged with film & foam between items to eliminate damage during shipping.
Available in thicknesses from: 3/16″, 1/4″, 3/8″, 1/2″
Available in lengths of: 10″, 12″, & 15″.
If this isn't the perfect size for your project, visit our "Custom Order" page.