How To Style and Organize Open Shelving in the Kitchen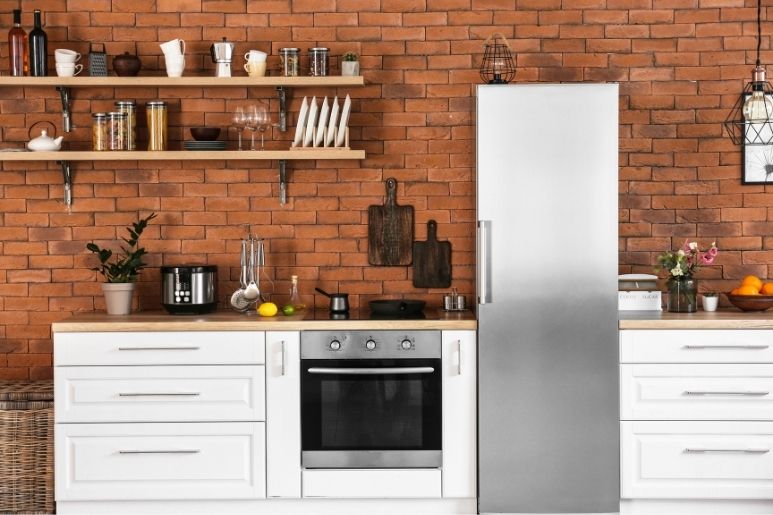 The implementation of open shelving is very on-trend right now. It offers a bit of a minimalistic feel for those looking to pare down their kitchen contents. Additionally, it can make the space feel more open because of the way it impacts the room's flow. Knowing how to style and organize open shelving in the kitchen will help you immensely.
Overcrowding
When determining what should go on your open shelving, remember not to overcrowd them. The items you choose to put out should be your most used kitchenware objects and utensils. You want your everyday items to be within reach. Things you use more infrequently can be stowed elsewhere.
The setup of your shelving should not only make the room feel more open without closed cabinetry everywhere but it should also be organized. It can help you arrange the objects by zones for easy access and improved visual appeal. Leaving space between items will allow for easy dusting of the surface and will offer you more of the minimalist look you were trying to achieve in the first place.
Heavy Pieces
As you make your choices about what will be on your open shelving, you'll need to account for weight. Right On Bracket recommends the installation of our heavy-duty hidden shelf brackets to maintain security without taking away from the visual appearance with cumbersome hardware.
Be sure that the heavier items you choose to put on the shelves will not topple onto you as you try to get them down. Accounting for an item's weight versus the height of the shelf is absolutely necessary. You can trust our products to hold even the heaviest items you choose to put on the shelving.
Colors
When it comes to picking a color for your shelving, lean toward more basic hues. The items on the shelf are really the things being displayed, so the shelf should remain neutral. Choose a color that complements the rest of the kitchen. If you'd prefer colorful shelving, be sure to match it to the other things in your kitchen. To better visualize this style, search the internet for reference photos that display how shelf color ties into the surrounding area of a space.
Determining how to style and organize open shelving in the kitchen will depend greatly on the theme of the space. Once you have decided how you would like your shelves to look and what items are best to place there, you'll be on your way. Open shelving can offer a lot of change to your kitchen with minimal effort. Just make sure the shelves are properly secured and supported.