Heavy Duty Floating Shelf Bracket – Hidden Stud Mount Shelf Bracket
Our Heavy Duty Hidden Shelf Brackets are designed to support a shelf, countertop, bar top, bench, or cabinet. These hidden/floating shelf brackets are mounted directly to wall studs behind drywall. Six mounting holes give this bracket an extremely high weight capacity, making it well-suited for use with heavier objects and a great choice for floating countertop brackets and much more. When the drywall is installed, our heavy-duty hidden shelf brackets protrude out for a shelf or surface to rest on. The result is a modern-looking shelf.
Product Specifications:
45 degree beveled front edge.
Hidden floating shelf bracket and mounting plate are both 2 1/2″ wide
Bracket available in thicknesses of: 3/8″ & 1/2″
Bracket available in lengths of: 8″, 10″, 12″, 15″, 18″, 21″, 24″
Mounting plate is: 3/16″ thick

Mounting plate is larger for brackets 18″ and longer.

Mounting plate has 6 stud mounting holes
Available in left and right side stud mount.

When looking at the stud; left side is left mount and right side is right mount.

2 included shelf mounting holes on the bracket as seen below. Allows a solid mount to wood shelves or countertops.
Hardware Not Included. Recommending 1/4″ grade 8 steel lag bolts 1.5″ long.
If you don't want to open up a wall and mount to the stud try these lighter duty floating shelf brackets
Weight Capacity:
Make sure high quality hardware is used to secure bracket to wall stud.
Below are weight capacities per bracket.
Example: Two 8″ brackets 3/8″ thick have a weight capacity of 520 lbs.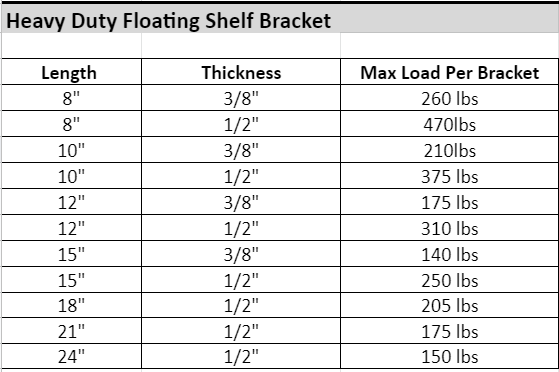 Product Details:
When deciding on the Heavy Duty Floating Shelf Brackets length, keep in mind you'll need to consider the thickness of the drywall.
The leading edge is beveled to eliminate a blunt edge. Keeps clothes and knees safe from being cut.
Bracket mounting side important due to beveled edge on the end of the bracket.
The diagram on the right is a right side mounted bracket mounted to a stud. -->

All parts are ground & buffed to give smooth edges & eliminate any burrs.
Powder coated black to prevent against corrosion and rust.
Packaged with film & foam between items to eliminate damage during shipping.
Products are manufactured in America.
If you're looking for more tips on installing these brackets, view our installation video below or visit this forum discussing the installation process. 
Product Manufacturing & Shipping:
Most orders will ship within 1-2 business days and shipping takes between 2-3 days.
Bulk or custom orders may take 1-3 days to manufacture.
A tracking number will be E-mailed to the address provided in the order.
Contact us for shipping details.
Installing A Heavy Duty Floating Shelf Bracket:
Heavy Duty Strength & High Weight Capacity: