Stud Clamp Shelf Bracket – Floating Shelf Bracket
Our Stud Clamp Shelf Bracket is designed to support heavy applications, while be nearly out of sight and easy to install. Our clamp mount design hugs a stud and has 4 separate mounting holes. This design delivers a very strong bond, while also an easy installation. Minimal drywall is needed to be removed to install these brackets. Once the removed drywall is replaced, it has a similar application as our
heavy duty floating shelf bracket
. Once the drywall is replaced, only a bar is protruding from the wall, creating a "floating" design for several applications.  These brackets may be used for shelves, mantels, and many other applications. .
Product Specifications:
C clamp hugs standard wood wall stud.
C clamp has 4 mounting holes. 2 located in the front and one on each side.
Bracket is 3/8″ thick and 2 1/2″ wide.
Bracket available in lengths of: 8″, 10″, & 12″.
2 included shelf mounting holes on the bracket as seen below.
Hardware Not Included. Recommending #8 steel screws.
If you need a stronger bracket, use our Heavy Duty Floating Shelf Bracket. 
Weight Capacity:
Installed only using 2 mounting holes in front: 100 lbs.
Installed using all 4 mounting holes: 150 lbs.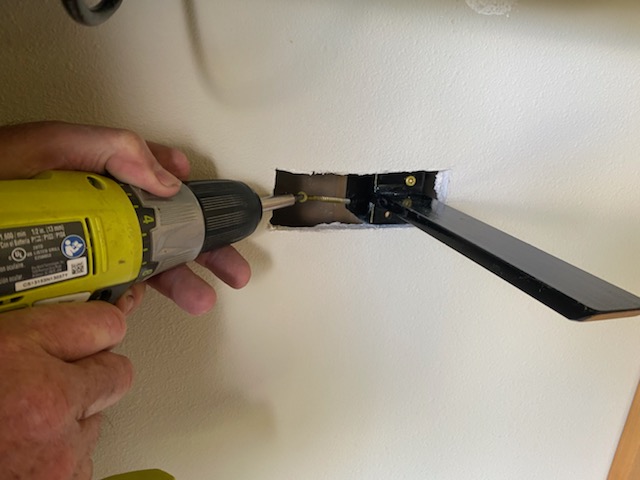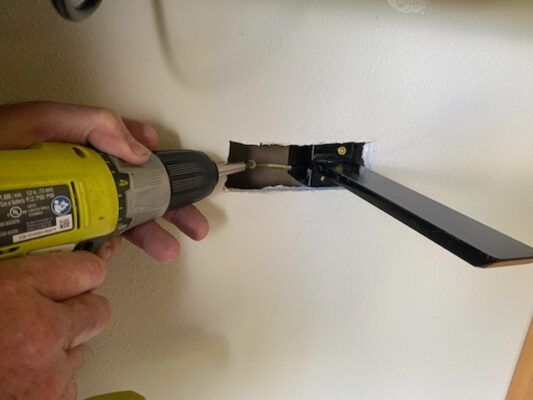 Product Details:
When deciding on the bracket length, keep in mind you'll need to consider the thickness of the drywall.
The leading edge is beveled 45 degrees to eliminate a blunt edge.
All parts are ground & buffed to give smooth edges & eliminate any burrs.
Powder coated black to prevent against corrosion and rust.
Packaged with film & foam between items to eliminate damage during shipping.
Products are manufactured in America.
Product Manufacturing & Shipping:
Most orders will ship within 1-2 business days and shipping takes between 2-3 days.
Bulk or custom orders may take 1-3 days to manufacture.
A tracking number will be E-mailed to the address provided in the order.
Contact us for shipping details.