The Hottest Kitchen and Bath Trends for 2020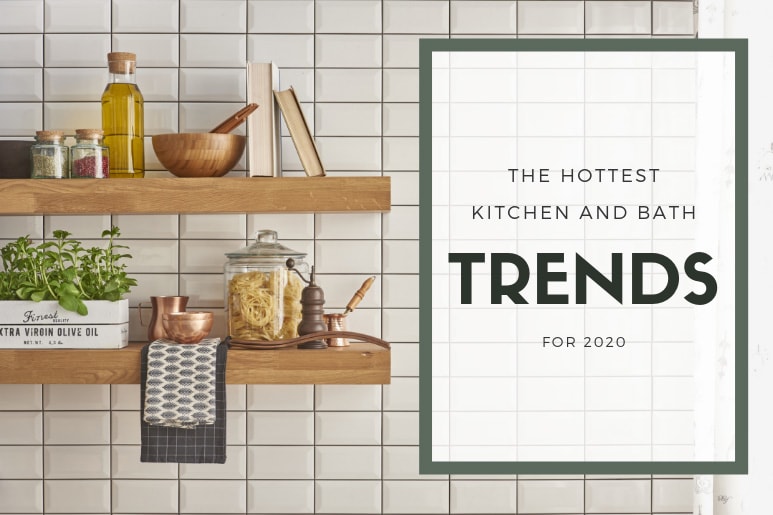 As a contractor, it's important to anticipate the customers' needs. You want to be able to guide your customers as they make design decisions in their home—this is key for staying relevant as a builder and designer. Further, simplifying the decision-making process will help you gain clients' respect and trust and encourage them to employ you over your competitors.
To stay out in front of the competition, you'll need to know what the hottest kitchen and bath trends for 2020 are going to be. The home design and appliance retailers are already stocking their shelves with cutting-edge products—don't wait until the new year to start researching and learning the latest fads.
What's Not
First, let's touch on what's out of fashion. Similar to music, fashion, and hairstyles, interior design tastes change—what was cool in 2005 isn't so cool today. The plus is that home trends don't change as fast because it is difficult and expensive to constantly remodel a home. To ensure you don't hold onto the past, here's what to avoid in 2020:
All-white kitchens and bathrooms.
Stainless steel appliances.
The color grey; areas without color.
What's Hot
Organized Cabinets
No more drawers full of junk. Clever, easy-to-use drawers and cabinets are what's hot right now. Eliminating the clutter on a bathroom sink and the kitchen counter should be every homeowner's top priority. The newest fad is docking drawers—these drawers have electrical outlets inside of them. This new design makes it easy to store digital devices and chargers, but also keeps them accessible. Plus, it protects your electronics from spills and other accidents.
Colored Appliances
Stainless steel appliances have had a dominant hold on the design industry for well over 15 years. However, people are now starting to branch out and make a change. Fortunately, you don't have to worry about outdated trends coming back in style—the avocado, coffee, and almond colors from the 70s are still out. Instead, yellows and reds are becoming popular. If you're hesitant to go all-in with a bold color, white and black are also on the rise.
Wood
To be fair, wood never really goes out of style. What does change is the wood finish homeowners use. Strong wood finishes are making a comeback in the kitchen—no more white cabinets. Darker woods such as walnut and oak, which boast detailed grain patterns and bold finishes, are going to be the craze.
Floating Shelves
Floating shelves in the kitchen or bath help lessen the clutter that piles up. Plus, by mounting hidden shelf brackets directly to the studs, your room will have a nice, clean look. Floating shelves are highly functional and look great when implemented into any design scheme. For homeowners who keep a great deal of things on their shelves, a high load capacity shelf will support a lot of weight.
Floating Vanities
Floating vanities are one of the hippest trends right now. Previously, due to the lack of options and designers believing they were too modern for a home, the look didn't catch on. But today, homeowners can choose from various floating vanities in many different types of wood. These vanities appear airy and seamless, making them perfect for any bathroom.