Tips for Installing Countertop Support Brackets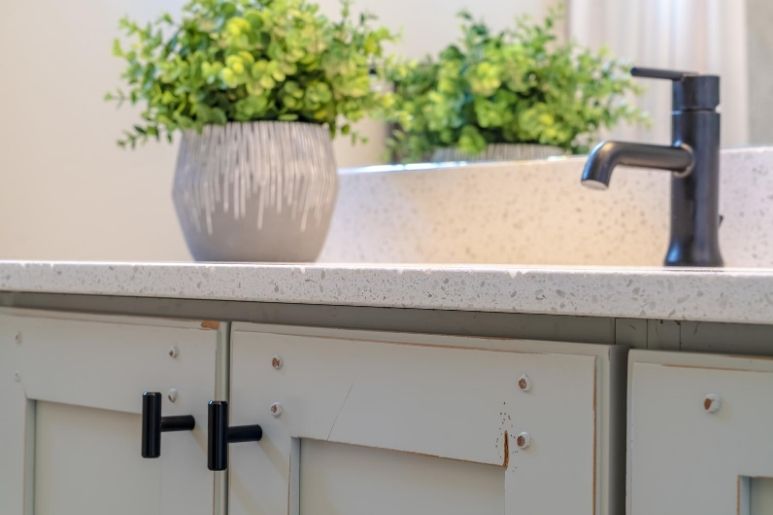 Installing a countertop is no easy feat. Oftentimes they're heavy, durable materials with specific instruction techniques that could be disastrous for the inexperienced. Some issues to look out for include overhang, sagging, cracks, and looseness. That's where countertop support brackets come in handy. These are heavy-duty steel brackets designed to support heavy countertop materials, such as natural stone, natural hardwood, stainless-steel, concrete, solid-surface material, and more. Any DIYer or professional contractor must check out these tips for installing countertop support brackets to learn about the best ways to install, support, and maintain their finished countertop. Whether it's in the kitchen, bathroom, powder room, or any other part of the house with a countertop, these support brackets are hidden and perfect for supporting whichever material you choose.
What Are Countertop Support Brackets?
Countertop support brackets, also known as heavy-duty floating shelf brackets, are designed to support heavy countertop materials like stone, steel, or natural hardwood. There are many different designs of countertop support brackets for these materials. The most common are hidden countertop supports because they're undetectable. They're typically used for knee walls, breakfast bars, and reception counters. Low profile brackets are also popularly used for large overhangs on islands, wall hung counters, and vanities. Still, elevated countertop supports and countertop standoff brackets are popular in smaller spaces as these supports attach to the wall, cabinet base, or to the top of your counter, respectively, to create or elevate eat-in areas. Island legs are another type of countertop support brackets which support various countertop heights or large overhangs as well.
How to Install Countertop Support Brackets
Given the different types of countertop support brackets, there are two ways to install countertop support brackets. The first includes a hand saw, wood chisel, screws and screwdriver, and level.
Measure, space out, and mark the appropriate mounting locations on your knee wall. You should start six inches inward from the edges. Space the bracket 18" to 24" apart.
Identify and mark the T-Square two diagonal lines 2 and 9/16th" apart from the mounting location.
Cut along each line ½" in depth using a hand saw.
Remove all the material between the lines using a wood chisel to create a clean and level mounting channel. Clear away any excess chips or dust.
Once cleared, place the support bracket in the mounting channel and affix it to the knee wall with the appropriate screws.
Level the bracket in the knee wall.
The second way involves more complex tools, such as a router, router bit, and level. You'll see some similar processes as with the other way, in addition to some slight differences as well.
Measure, space out, and mark the mounting locations on the knee wall.
Use a T-Square to mark the diagonal lines at the mounting locations.
Work left to right, aligning the inner edge of a ¼ x 4" strip wood router guide with the horizontal line.
Trim any excess wood out of the mounting surface with a Top Bearing Flush Trim router bit and ½" cutting depth until you have a clean and level channel to seat the bracket. Clear away any excess chips or dust.
Once cleared, place the support bracket in the channel and affix it to the knee wall with the appropriate screws.
Level the bracket in the knee wall.
Notably, brackets with side or back angles do not need a mounting channel, as the sheetrock covers them. It is easier to trim the rock and apply a sheetrock patch rather than create additional mounting points. Also, your knee wall must be stable to support the countertop. It might help to pre-drill the screw holes beforehand to prevent the studs from cracking.
Best Materials for Countertop Support
With that, these heavy-duty countertop support brackets can support a variety of heavy materials. The most common are concrete, granite, marble, soapstone, quartz, solid-surface material, natural hardwood, and stainless-steel. These are all heavy-duty materials known for various advantages for kitchen use. Many have high heat and damage resistance which ensure greater kitchen feasibility and use. Some materials, like stainless-steel, give a modern yet chic look, while other materials such as hardwood give a natural and cozy aesthetic. Regardless of the type of countertop material you choose, be sure to pick the appropriate countertop support bracket depending on the amount of overhang and weight necessary to support it.
Considerable Do's and Don'ts
More so, some of the most efficient tips for installing countertop support brackets are seen in these considerable do's and don'ts. Firstly, do ensure the support structure can withstand the countertop and support brackets. Your countertop support should extend within four inches from the edge of your countertop. Fasten the supports with an adhesive or fastener to secure the braces to the support structure. Before you install the support brackets, always measure the countertop dimensions. If you're a DIY home installer, it might help to consult with a contractor for further assistance.
On that note, never leave overhangs greater than four inches, as this can damage your countertops. You risk further damage by using a bracket that's too weak to support it. This might come from neglectful planning beforehand or last-minute support bracket purchases. Using insufficient fasteners or fastening the support brackets to a weak supporting structure can also damage your countertop. It's important to take note of each of these tips for now or for future bracket installation. Give yourself enough preparation time to collect all the right supplies before planning your countertop layout and support.
With all that said, we at Right on Bracket have the right floating countertop brackets for your countertop support given their heavy-duty design and weight capacity. Our heavy-duty floating shelf brackets mount behind the drywall to the wall studs and have an optional countersunk shelf mounting hole. They come with left or right-side stud mounts in lengths ranging between 8", 10", 12", and 15" and thicknesses between 3/8" and ½". If you're still confused, don't be afraid to call us with any questions and our expert team will be happy to assist you.