Industrial Shelving – Heavy Duty Shelving Applications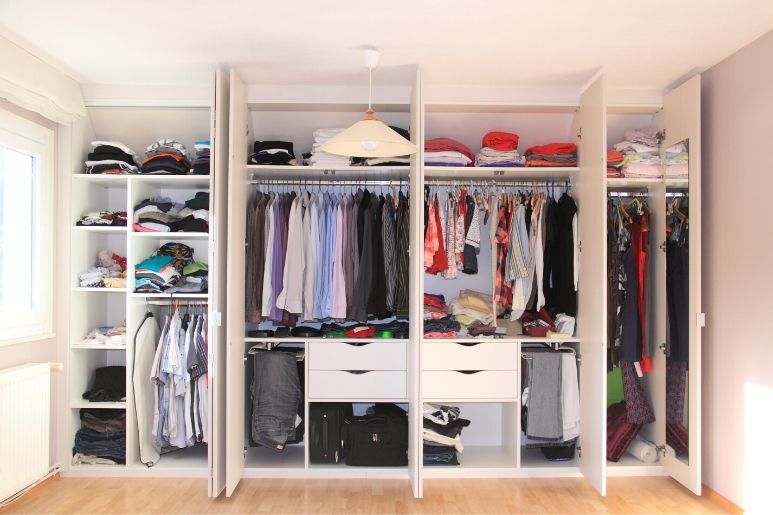 Industrial Shelf Brackets
In both household and commercial applications, industrial strength brackets will come in handy. At Right On Bracket, we're known for our heavy duty brackets and we're constantly innovating. Both modern style and industrial grade support can be combined to create a fantastic piece of hardware.
Closet Shelving
A walk-in closet has plenty of space to create creative shelving designs. In the past, wire shelves were very popular, as they were a cheap and practical option. There are several better options and we have many different closet shelving options.
We've had customers reach out to us with a variety of different ideas for closet shelving. Typically, people turn to our traditional Right Angle Brackets, Floating Shelf Brackets, Tiered Shelf Brackets, and occasionally our Heavy Duty Floating Shelf Brackets. All these brackets are very concealed or completely invisible, so storage becomes simple. Several brackets don't create much room below them, due to a reinforcement bar. Since our brackets are solid steel, these support brackets don't need a reinforcement bar, creating a clean and practical solution.
Garage Shelving
Industrial strength brackets are essential in nearly any garage. Several items are extremely have and you can't afford shelves failing. With any product of ours going into a garage, we recommend installing the brackets directly into the wooden studs behind drywall. This will increase the weight capacity dramatically.
For garage shelving, we have a few brackets that sell much better than others. This includes our Right Angle Brackets, Tiered Shelf Brackets, Heavy Duty Floating Shelf Brackets, and Reinforced Shelf Brackets. All these brackets have a high weight capacity and will create a modern look!
Laundry Room Shelving
A laundry room will need shelves for detergents, cleaners, and all the other items you're storing. Like closets or garages, a high weight capacity is necessary.
We recommend our Tiered Shelves for this application. You have a variety of tiers and depths to choose from, so you can find the perfect setup for your laundry room. They're easy to setup and have a weight capacity capable of holding hundreds of pounds!
Heavy Duty Shelves For Any Room
Heavy duty of industrial shelves can be both modern and strong. Several products sacrifice high weight capabilities for a sleek look. At Right On Bracket, all our products are designed to support a high amount of weight reliably. This will create a modern look, capable of lasting a lifetime.